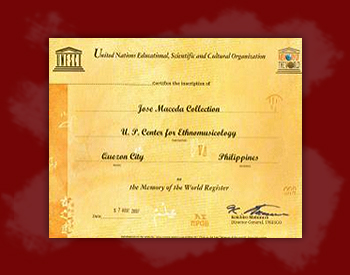 The UP CENTER FOR ETHNOMUSICOLOGY is a center for music research with material collections on the musics and musical traditions in the Philippines, Southeast Asia, and representative areas from other continents. The Center was founded by Dr. Jose M. Maceda (1917- 2004), composer, ethnomusicologist, pianist, philosopher, scholar, and National Artist. It was established by the Board of Regents of the University of the Philippines on June 16, 1997. The core holding of the Center is the Jose Maceda Collection, consisting of library and archive materials including sound recordings, field notes, video, film, still photographs, and other documentary items as well as musical instruments, and original music compositions that were put together by Dr. Maceda, his research staff and other scholars since 1953. Together with Dr. Maceda's personal collections which were officially transferred and deposited at the U.P. Center for Ethnomusicology last September 22, 2005, the collection has recently been inscribed in the UNESCO Memory of the World Register in August 2007, as an item of documentary heritage of exceptional value. The Center is located on the second floor, Main Building of the U.P. College of Music, Abelardo Hall, Diliman, Quezon City.
The Center is directly administered by the Office of the Chancellor and provides direct access to the faculty and graduate students of the College of Music. The Center has established linkages with international institutions and individual scholars, several of whom have also deposited copies of their studies and researches in the collection. It has produced LP recordings of traditional Philippine and Southeast Asian music, journals, books, a research manual, and other educational materials, and has organized various local and international symposia, conferences, and performances.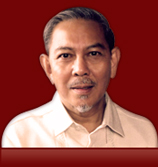 The UP Center for Ethnomusicology is a research institution intended to enhance knowledge and understanding of musical cultures in the Philippines, Southeast Asia, and the rest of the world. It functions as a both archive and repository of materials on music, philosophy, anthropology, and other cognate disciplines, as well as a dynamic center for performance and composition of musics of the world's cultures. It is with much pleasure therefore to invite scholars, artists, and pedagogues to join and interact with us in exploring traditions in the musical world.
Ramon P. Santos, PhD
slider: